Prices for 2022 will be available later; please use the 2021 information on this page as a guide in the meantime.
When planning your journey please note that prices are based on travelling Monday-Monday. Other arrangements can be made but supplements may apply. Please also bear in mind that your accommodation may not be ready before 5pm on your arrival day. On departure day, you are required to leave your accommodation at 10am (although you're more than welcome to use the facilities for the rest of the day).

NB: Brittany Ferries did not schedule the crossings from Portsmouth-Cherbourg or Portsmouth-Le Havre in 2021, so it is not yet clear whether they will be available in 2022.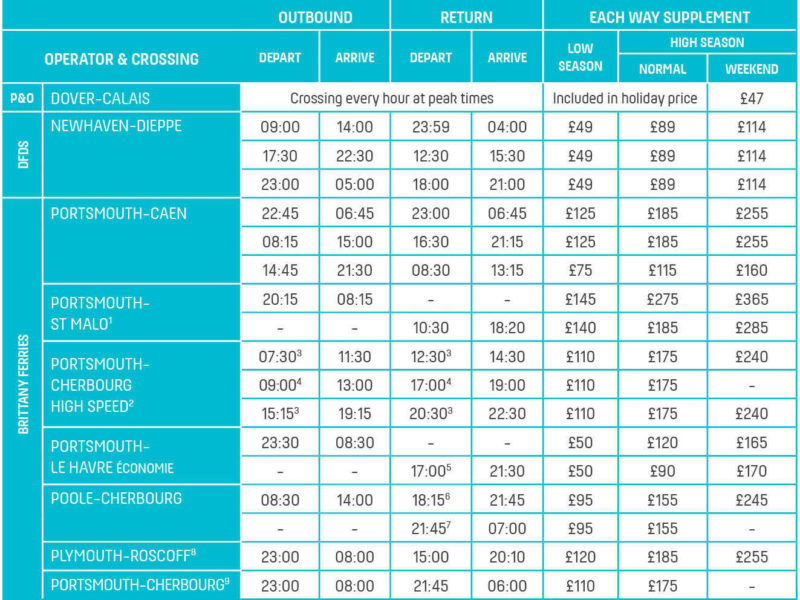 1. Precise timings differ on some dates. Inbound timings vary on non-Mondays.
2. Route currently unavailable. Last sailings of the year are likely to be 5/9 outbound, 4/9 inbound.
3. If route runs: only available on certain High Season Fridays, Saturdays and Sundays.
4. If route runs: normally Sunday-Thursday only.
5. On Thurs-Fri, departure is 22:00, arrival 07:15 Thurs/06:00 Fri, HS supplement £120.
6. Only in High Season, plus Thurs-Sun before 12 July and after 3 Sept.
7. Only on Tues-Weds, and not between 13 July - 1 Sep.
8. Schedule varies. See Brittany timetable here for precise timings.
9. New in 2021. Sunday only outbound; Monday only inbound.